Mold and Moisture and Mildew, Oh My!
Years ago, basements were used mainly for storage space. Basements derive from root cellars which were used to store food before refrigerators were invented. Over time, basements have transitioned from practical storage areas to valuable living spaces. From home offices to elaborate game rooms, basements are an extension of the home and can serve many different purposes.
No matter how you use your basement, you never want moisture to become a problem. While basement waterproofing effectively removes the water in your basement, it doesn't remove humidity. That's why, when you schedule basement waterproofing in Ridgewood, NJ, or elsewhere in New Jersey, it's important for your waterproofing company to address any moisture concerns as well.
When your basement is too humid, this can lead to a number of discomforts and health concerns. Since air rises, you'll feel the effects of a humid basement throughout your home. Luckily, there are plenty of ways to stop moisture in its tracks and take control over your basement.
Install a Vapor Barrier to Prevent Moisture Penetration
Moisture can easily seep through basement walls and floors. If your basement feels more like a dungeon than living space, a vapor barrier can work wonders. It will not only protect your home from the elements, but it will also brighten your basement with a nice white finish. Even if you plan on finishing your basement, the vapor barrier is still a smart option because moisture can penetrate through any basement—finished or unfinished. Vapor barriers are especially effective on brick because brick tends to absorb more moisture than other materials.
The plastic barrier we install is thick, highly durable and comes with a lifetime warranty. It also contains an antimicrobial additive to help shield your home from mold and mildew. We carry a quality product to ensure your vapor barrier will be effective in keeping your basement dry. If your home has a crawlspace instead of a basement, we can install the barrier in your crawlspace as well.
Contact us to learn more about the product we install and whether it's right for your home.
Cover Your Sump Pit With a Lid
Your sump pump plays a crucial role in your waterproofing system. That being said, you don't want your sump pit to become one giant vaporizer in your basement. That's why it's important to cover your sump pit with a proper lid.
When we install sump pumps, we secure the pits with airtight lids. As you go through the process of waterproofing your home, the last thing you want to do is create another water source. That's why we take extra measures to help you remove the moisture in your basement once and for all!
Improve Your Air Quality With a Dehumidifier
A humid climate such as your basement can become a breeding ground for dust mites, mold and more. This can trigger allergy and asthma symptoms that will cause frustration and discomfort. It's important to remember that the air in your basement rises and exits through the upper levels of your house. This means that if your basement has a humidity problem, you'll feel the effects in your living room, kitchen, bedrooms and throughout your home.
To combat the excess moisture, you can have a dehumidifier installed in your basement. In a high-humidity state like New Jersey, these systems can make all the difference for your health and comfort. Besides keeping your space dry, a dehumidifier will also help to:
Eliminate odors and musty smells in your home.
Protect wooden furniture, hardwood floors and custom cabinetry from rotting and deteriorating.
Protect family heirlooms and other valuables from damage.
Alleviate allergy and asthma symptoms by eliminating dust mites, mold growth and more.
Protect your appliances from rust or corrosion.
Lower your energy costs. (Your air conditioner won't need to work as hard to remove moisture from the air.)
At Blue Umbrella, we carry Santa Fe humidifiers that are designed for small spaces such as basements and crawlspaces and include the manufacturer's warranty. These compact units remove both water and contaminants from the air to improve your health and comfort. They have the capacity to remove much more water than your air conditioner can and will put less of a strain on your cooling system. They also exceed Energy Star requirements and are a reliable, energy-efficient solution to a humid basement.
Contact us to learn more about the dehumidifiers we carry and whether you stand to benefit from one.
Other DIY Tips
Looking for other ways to keep your basement dry this summer? Here are other steps you can take to further reduce moisture in your home:
Check your landscaping to ensure water flows away from your house rather than toward it. Extend downspouts to divert water far enough from the home.
Use a water-resistant paint on your basement walls to reduce condensation.
Insulate water pipes to prevent them from sweating.
Use a crawlspace vent cover to prevent water and moisture from entering your crawlspace.
Use exhaust fans in basement bathrooms.
Dry your clothes outside whenever possible. Hanging wet clothes inside and using the dryer both produce moisture.
Send Humidity Packing With Blue Umbrella
With all of this information, you might be wondering where to start. Is a vapor barrier the right option, a dehumidifier or both? The answer is that it all depends on your situation.
That's why we offer free estimates for our customers. We'll visit your home and provide an on-site, no-obligation consultation to learn more about your needs and discuss your options. Whether we recommend a vapor barrier or a dehumidifier for your basement in Montclair, NJ, or elsewhere in our service area, know that our word is backed by decades of industry experience. Simply put, moisture doesn't stand a chance with our waterproofing professionals!
To schedule a free estimate for your New Jersey home, contact us online or call Blue Umbrella Waterproofing at 908.432.8858.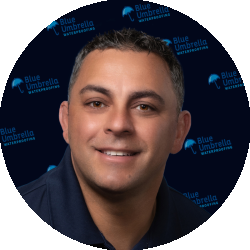 Latest posts by Steve Karlik
(see all)
Get My FREE Estimate
Schedule a free inspection today!