New Jersey's Basement Waterproofing Company
Rain or Shine, Your Home Stays Dry
When you face basement water, a wet crawl space, or a damaged foundation, you need permanent solutions using the right materials and products installed by experienced, proven professionals. As New Jersey's premier waterproofing and foundation repair company, Blue Umbrella delivers those solutions. Let us help you.
Get My FREE Estimate
Schedule a free inspection & estimate today!
"*" indicates required fields
NEW JERSEY'S BASEMENT WATERPROOFING COMPANY
Rain or Shine, Your Home Stays Dry

 
When you face basement water, a wet crawl space, or a damaged foundation, you need permanent solutions using the right materials and products installed by experienced, proven professionals. As New Jersey's premier waterproofing and foundation repair company, Blue Umbrella delivers those solutions. Let us help you.
Get My FREE Estimate
Schedule a free inspection & estimate today!
"*" indicates required fields
Best Quality and Best Price Guaranteed!
Financing Available! Buy Now, Pay Later!
Our NJ Waterproofing & Foundation Repair Services
We Handle Basements, Crawl Spaces & Foundations

Basement Waterproofing
Your basement is a valuable living space that shouldn't surrender to the elements. Backed by decades of waterproofing experience, we'll pinpoint your wet basement problem and offer an affordable long-term exterior & interior waterproofing solutions. Count on Blue Umbrella, your New Jersey waterproofing company, to help you make the most of your space.

French Drain Installations
Redirecting water away from your home is one of the most effective ways to keep your basement and crawl spaces dry. Blue Umbrella specializes in NJ moisture management, including NJ French drain installations & interior basement waterproofing that outsmart Mother Nature and solve your cracked foundation or wet basement problems throughout New Jersey

Sump Pumps & Backup Systems
Water is no match for a dependable sump pump system installation. As part of our NJ basement waterproofing services, we carry industry-leading sump pumps to reliably move water away from your home and foundation. And should the power ever go out, we install battery backup sump pump systems to ensure your home stays dry, even in the most severe weather.

Basement Foundation Repair
Cracks in your basement walls are never a good thing. Water can seep in through the cracks damaging the basement. We keep the water out with professional epoxy injections. Cracks can also mean bowing basement walls or a damaged settling foundation. We fix the issue with steel I-beams and carbon fiber strips. Blue Umbrella is NJ's trusted basement foundation repair company.

Crawl Space Encapsulation
Your crawl space is a breeding ground for humidity, water, bugs, and rodents, which may lead to costly problems and poor indoor air quality. We protect you and your home with full New Jersey crawl space encapsulation and crawl space waterproofing services including a specialty crawl space sump pump and dehumidifier. Your crawl space stays clean and dry.

Dehumidifier Installations
High humidity, indoor air quality problems, and mold growth go hand in hand. If humidity is wreaking havoc on your basement or crawl space, Blue Umbrella installs crawl space and basement dehumidifiers that maintain the correct level of humidity in the space, helping keep your home dry, safe, and allergen-free. A proper dehumidifier completes a waterproofing system.

Waterproofing Maintenance
A key aspect of basement waterproofing is making sure that the system in your NJ home is always functioning properly. We offer regular checkups and comprehensive inspections of your sump pump, dehumidifier, and drainage system, replacing worn parts. Having a basement waterproofing maintenance plan ensures your basement always stays safe and dry.
Your Trusted Basement Experts
When you think of your basement, do you think about an entertainment center, a den, a home office, or do you think about flooding, bowed walls, and rot? With Blue Umbrella, we ensure that it is never the latter. As NJ's trusted basement, crawl space, and foundation experts, we guarantee you a dry and healthy home.
Blue Umbrella is licensed, bonded & insured (HIC 13VH09834500) and has hundreds of satisfied customers. When you choose us, you receive top-quality, proven waterproofing and repair systems with lifetime warranties. So, if you have basement leaks, a damp crawl space, or bowing foundation walls, call Blue Umbrella today.
Giving Back To Our NJ Communites
Improving the Lives of Our Customers & Our Neighbors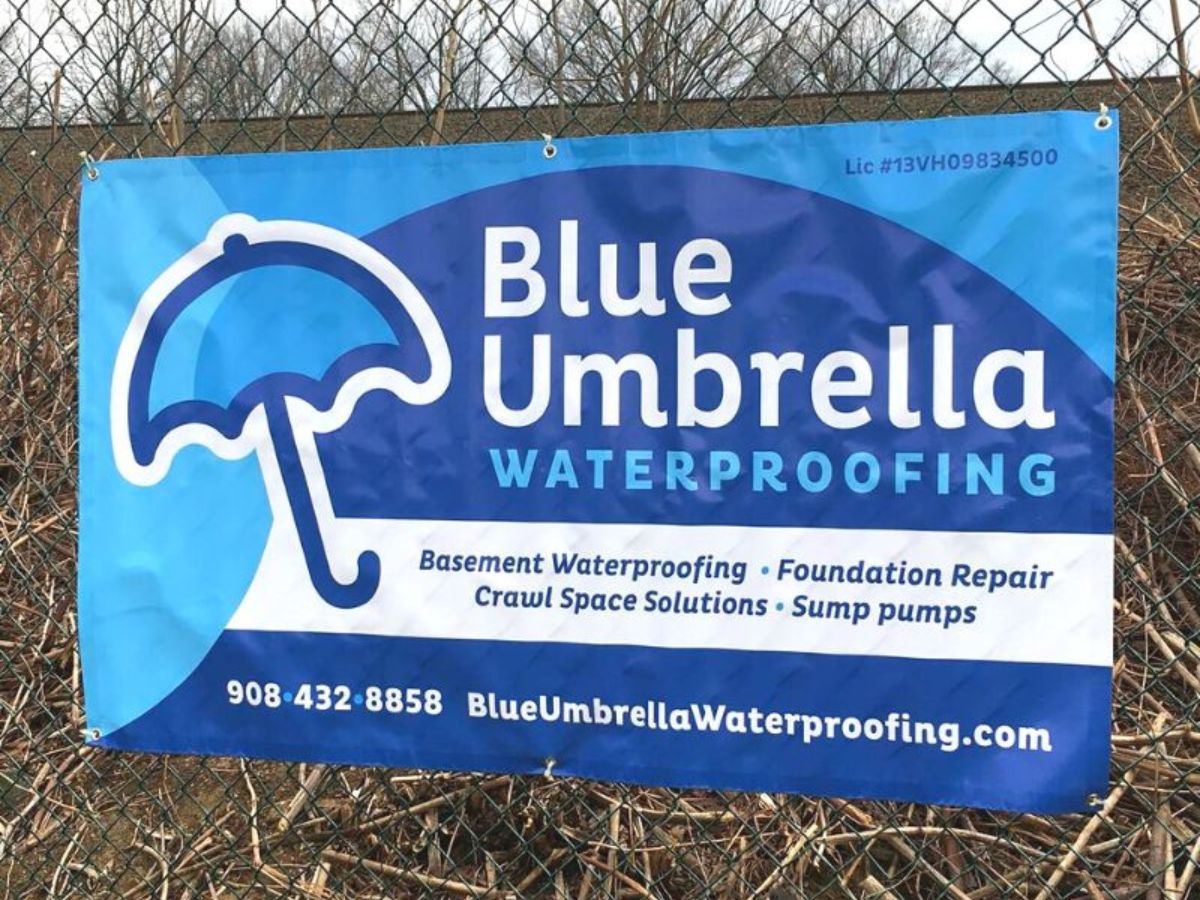 We understand the success of Blue Umbrella Waterproofing is because of the support we receive from homeowners and businesses in Northern New Jersey. We want to give back to the communities that have given so much to us.
That's why for years, we have been involved in local nonprofits, youth programs, and charities, donating to those in need and helping build the lives of young people.
Blue Umbrella has supported the Roselle Park High School Football team, sponsored the Roselle Park Baseball & Softball League, and volunteered with the Special Olympics. We're proud to support these noble organizations that are making our community a better place in which to live, work and play.
Blue Umbrella Waterproofing is dedicated to improving not only our customers' lives but the lives of all in our community.
Why Choose Blue Umbrella?
The Experienced Choice. The Right Choice.
For years, Blue Umbrella Waterproofing has helped New Jersey homeowners and businesses with basement waterproofing, crawl space encapsulation, and basement foundation repair. We have successfully completed hundreds of projects, each project using reliable, high-quality waterproofing and repair products that come with lifetime warranties.
Many of our past jobs have come from customer referrals. Our company is founded on integrity and our customers know that we provide honest estimates, start projects on time, do exactly what we promised, and finish on schedule. They trust Blue Umbrella and they tell others about it, which can be seen in the hundreds of positive reviews we have received.
When you have a basement expert from Blue Umbrella visit your home for a free inspection and estimate you know that your basement and foundation worries are at an end. Step under the blue umbrella and call us today. We are New Jersey's trusted basement waterproofing and foundation repair company.

Decades of
Experience

Free
Estimates

Fully Licensed
& Insured

Founded on
Integrity & Trust

Quality
Products

Lifetime
Warranty
Tips From Your NJ Waterproofing & Foundation Pros
Blue Umbrella uses Fortress Stabilization Systems to repair damaged foundations in homes and business properties across New Jersey. We are proud to announce that Fortress Stabilization Systems has earned the ICC-ES certification on the carbon grid strap fiber-reinforced polymer composite system used to fix bowing, leaning, and damaged foundation walls.
Learn More
Proudly Serving Central & Northern NJ and the Jersey Shore
Your Trusted NJ Waterproofing & Foundation Contractor
Blue Umbrella serves homeowners and businesses throughout central and northern New Jersey and the Jersey Shore.
When it comes to the value of your home and the safety and security of your family, you need someone who you can trust, someone who will get the job done right. Blue Umbrella is precisely that someone.
We provide dependable, warrantied services keeping your home or business clean, dry, and steady. Our experienced waterproofing and foundation repair specialists will create a customized, warrantied solution for your home, a solution that provides the safety and security you are looking for. We arrive on time, finish on schedule and within budget, and only use trusted, proven materials and products.
No matter the challenge, we are New Jersey's top contractor for basement waterproofing, crawl space waterproofing & encapsulation, and foundation repair.
Customer Testimonials
What Your NJ Neighbors Are Saying About Blue Umbrella

About Blue Umbrella
The Foundation for Exceptional Service
Owner Steve Karlik founded Blue Umbrella Waterproofing after acquiring more than 20 years of field experience.
When it was time to name his company, one image stood out to Steve among the rest: an umbrella.
Just as you rely on your favorite umbrella to keep you dry in the rain, you can rely on us to keep you dry in the comfort of home.
Whether you need basement foundation repair, crawl space waterproofing, or basement waterproofing in New Jersey,
we've got you covered.