Dry Basements Add to Home Sales Value
The New Jersey real estate market is hot, rising 2.6 percent over the past 12 months. If you're thinking about selling your house, your prospects for a timely, high-value sale are good—IF your home is free of problems like basement moisture or a cracked foundation. Today's buyers are leery of homeownership pitfalls, and they often walk away from houses with red flag issues.
To attract ideal potential buyers and get top dollar for your home, fix basement moisture problems before you stake that "Home for Sale" sign in your front yard.
Basement Moisture Signals Big Trouble
When potential homebuyers see evidence of flooding or detect an unpleasant moisture odor in your basement, good impressions about kitchen upgrades, stylish baths and cute curb appeal fly out the window. It pays to address structural flaws before spending money on cosmetic upgrades, since many buyers are reluctant to take on big home repairs (even for a bargain price).
If your home suffers from basement flooding or shows signs of high humidity and condensation on basement surfaces, waterproofing can add value and reassure potential buyers with concerns like these:
Fears about a home's structural integrity
Potential for dropping home values
Need for repeated clean-up & repairs after heavy rains
Damage to furnishings, woodwork & floors from high humidity
Increasing insurance premiums from repeated claims
Health problems from mold & mildew growth
Waterproofed Basements Increase a Home's Appeal
Addressing basement moisture problems is a cost-effective home improvement that delivers value to both potential buyers and existing homeowners. A comprehensive waterproofing solution from certified experts like Union County's Blue Umbrella Waterproofing can turn a sale-stopper into a desirable upgrade in the minds of prospective buyers. Our trouble-free, guaranteed moisture management system is a wise investment that keeps your home protected from heavy NJ rains. As an added bonus, you'll enjoy a dry, usable basement that's perfect for storage or added living space.
When you need more space but don't want to move into a new home, consider basement waterproofing. With moisture problems eliminated, your basement could be finished into more bedrooms, a family rec room or an apartment for rent—for a fraction of the cost of moving. In addition to extra square footage, basement waterproofing delivers home value and freedom from moisture worries.
Blue Umbrella Waterproofing Delivers a Lifetime Warranty
You can't go wrong when you secure your home's waterproofing under the Blue Umbrella. Our team of fully insured and credentialed experts has 20+ years' experience keeping Union County homes safe and dry. When you contract for basement waterproofing, sump pump installation or foundation repair, you are assured of quality workmanship and products backed by a lifetime warranty that is transferrable when you sell your home.
Concerned about moisture in your basement? Musty odors, bug infestations and small cracks in floors or walls are early signs of problems. Blue Umbrella offers free in-home estimates for interior and exterior waterproofing of homes in Union County, NJ and beyond. Call 908.432.8858 to schedule an appointment, or contact us online for more information!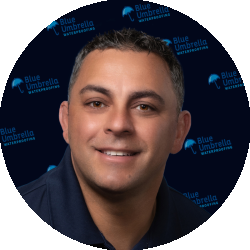 Latest posts by Steve Karlik
(see all)
Get My FREE Estimate
Schedule a free inspection today!