Martinsville, NJ Basement Waterproofing Company
Martinsville's Local Waterproofing & Foundation Expert
For years, Blue Umbrella Waterproofing has been the go-to source for homeowners and businesses in Martinsville, NJ, who need to ensure that their basements remain dry and safe. We offer reliable and warrantied services to repair and waterproof your crawl space, basement foundation, and basement. Our certified professional staff is dedicated to providing you with a dry, protected home.
Free estimates
Lifetime warranty
Decades of experience
Respect for your home
Quality products and materials
Our team is dedicated to providing the highest quality waterproofing and foundation repair services. We believe in the strength and reliability of our work and take pride in being able to provide lifetime warranties. Call us today to get a free inspection and estimate.
Looing for waterproofing or foundation repair?
We provide free inspections and estimates so call us today.
Basement Waterproofing in Martinsville
At Blue Umbrella, our basement waterproofing systems are tailored to the specific needs of your Martinsville home. We understand that a 'one-size-fits-all' approach won't work when it comes to something as important as protecting your basement from water damage, so we don't use generic solutions. Instead, one of our basement specialists will come to your residence for a free and comprehensive inspection. Afterward, they will answer all your questions and create a customized waterproofing solution. We use both interior and exterior basement waterproofing options.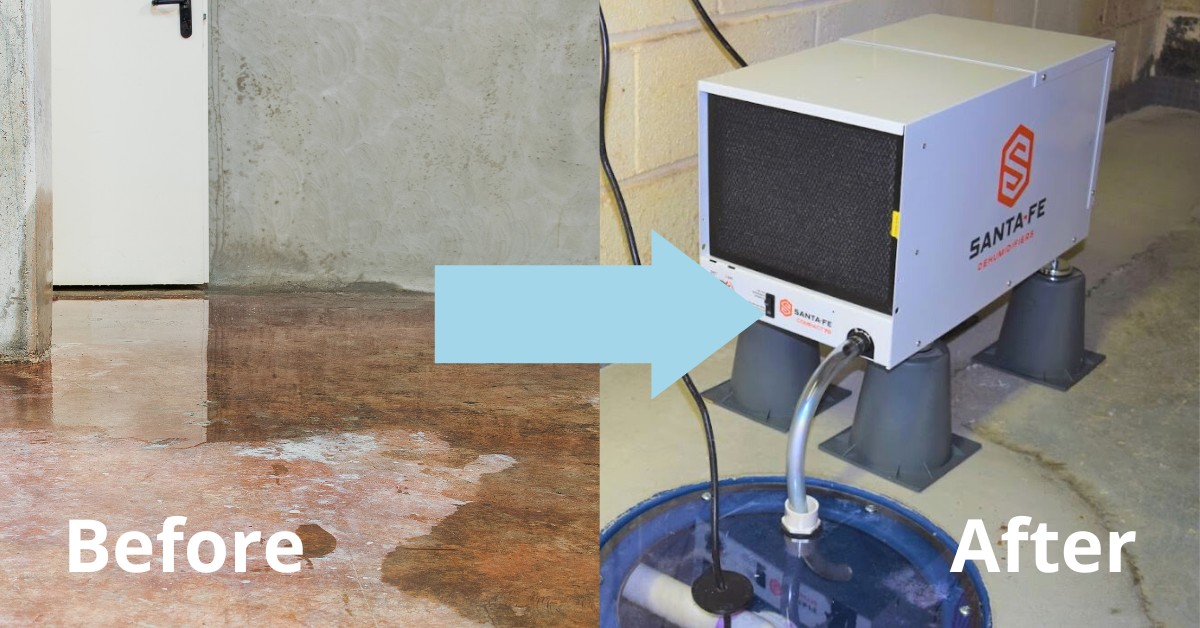 How Does Interior Basement Waterproofing Work?
Interior waterproofing is a great solution for existing Martinsville homes that don't want to tear up the yard around the foundation. The process includes installing a perimeter drainage system, which collects water seeping in through the walls or floors. Then, it's routed to a sump pump that pumps the water away from your foundation. To ensure maximum protection, we suggest adding a battery backup sump pump to your system in case of power outages. In addition, installing a basement dehumidifier will help maintain optimal humidity levels and prevent mold growth.
Exterior Basement Waterproofing
Exterior basement waterproofing is an effective method of long-term protection against basement flooding and water damage. In this process, a sealant is applied directly to the outside of the foundation, followed by a blue skin membrane that prevents moisture from seeping through. A layer of drainage board helps further protect the membrane and keep any water out. Lastly, the soil is backfilled onto the foundation to help contain water and keep it away from your basement walls.
At Blue Umbrella Waterproofing, we are experienced in interior and exterior basement waterproofing solutions for existing and new homes in Martinsville. Generally, exterior basement waterproofing is ideal for new building construction. For existing homes this requires digging up the foundation and tearing up driveways and sidewalks, so we instead recommend internal basement waterproofing systems for existing homes and buildings.
Other Benefits of Basement Waterproofing
Beyond simply keeping your basement dry and safe, investing in waterproofing comes with a variety of other benefits too. 
For starters, it can help protect the health and safety of your family. When basements are wet, moisture and mold can accumulate, which can lead to allergic reactions in some people. By waterproofing your basement, you'll prevent the buildup of mold spores, thereby protecting those with allergies or sensitivities from potential triggers. 
Additionally, basement waterproofing improves the value of your home by preventing rot and decay from water damage. This means you'll be able to get more out of your home should you ever decide to sell. 
Finally, a waterproofed basement can provide peace of mind and extra usable space. No longer will you worry about flooding due to heavy rains or melting snow. The newly dry area in the house could potentially become an extra room or office, giving your home extra value and utility.
Martinsville, NJ (Bridgewater Township)
Basement Waterproofing with Two Sump Pumps
A homeowner in Martinsville, NJ (Bridgewater Township), located in Somerset County called Blue Umbrella to fix their basement water issue. Water was seeping into the basement during rainstorms, causing water damage to anything touching the floor of the basement. After a thorough inspection Blue Umbrella created a customized basement waterproofing plan which included the installation of an interior french drain as well as two separate sump basins equipped with high-capacity sump pumps. The waterproofing system captured any entering water, channeled it to the sump pumps which then safely removed the water and transported it out and away from the home through an exterior drainage system, ensuring that the basement floor stayed dry and that no more water damage occurred.
Martinsville Crawl Space Encapsulation & Waterproofing
Along with basement waterproofing, we provide complete repair, encapsulation, and waterproofing services to keep your crawl space free of water, mold, rodents, and insects. We use state-of-the-art techniques and specialized products to ensure your crawl space remains dry and healthy all year round.
Waterproofing (encapsulating) your Martinsville, NJ crawl space is an important part of keeping your home safe from water damage, mold growth, and other issues that can arise due to moisture.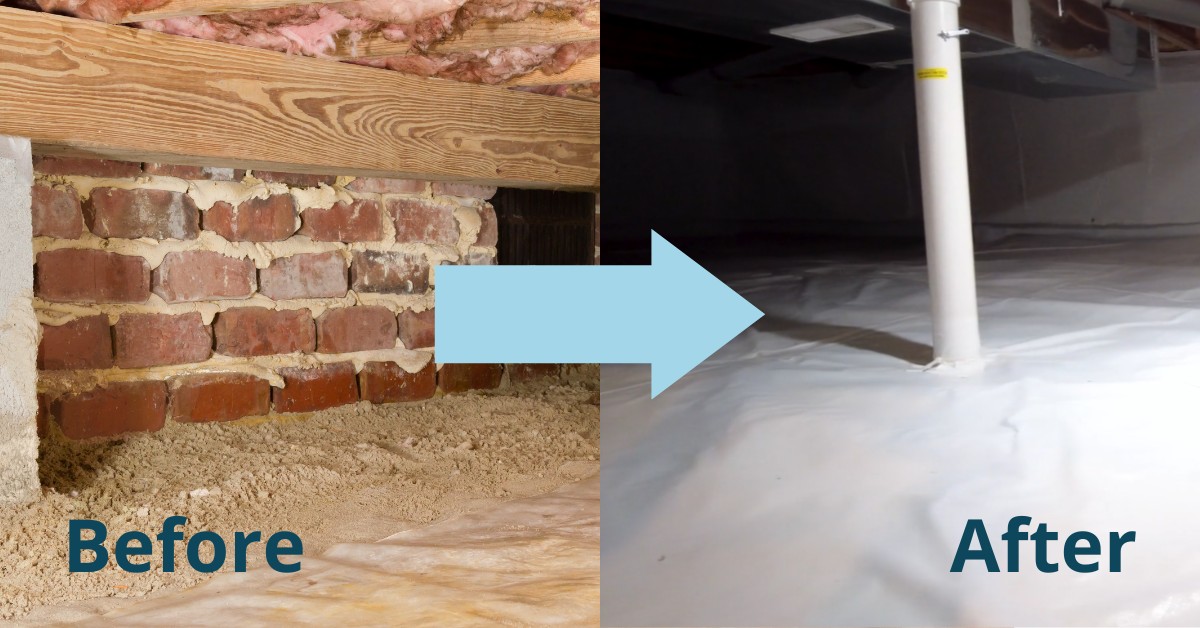 The Crawl Space Encapsulation & Waterproofing Process
Crawl space waterproofing and encapsulation follow similar steps to basement waterproofing.
Drying the Area: Any pooled water will be removed from the crawl space, and the area will be cleaned and dried. 
French Drain Sump Pump Installation: A french drain is installed that collects water and brings it to a sump pump which removes the water from the space. d
Crawl Space Encapsulation: A durable, protective liner will be laid on the floors and crawl space walls, sealing out any moisture and bugs from entering. Any crawl space windows or doors are sealed. 
Crawl Space Dehumidifier: A crawl space dehumidifier will be installed to finish the system and control the humidity in the space, preventing mold and rot.
Martinsville, NJ Foundation Repair Company
Beyond providing waterproofing and crawl space encapsulation, we provide basement foundation repair. Blue Umbrella is committed to helping homeowners in Martinsville identify and address potential issues with their foundations. Foundation repair is not a diy-project to take on. When it comes to identifying foundation problems, there are a few key signs to look out for: vertical wall cracks, horizontal wall cracks, and stair-step wall cracks.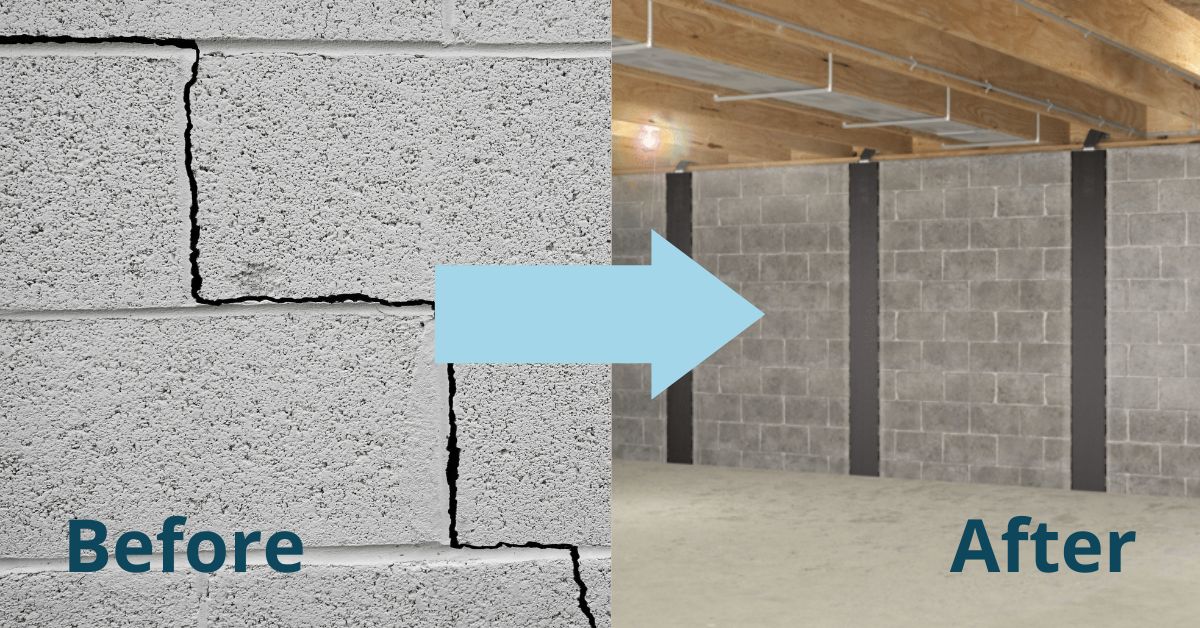 Types of Wall Cracks
Vertical: Vertical cracks in basement walls are a common result of natural shrinking of concrete over time. These cracks may be large enough to allow moisture to seep through and into the home, leading to structural damage. To prevent this, experienced professionals can repair and seal the cracks, ensuring any water stays out of the basement.
Horizontal: Horizontal cracks in basement walls can indicate foundation issues. These cracks usually occur when shallow soil presses against the walls, causing them to bend inwards and crack. If this is happening in your home, it's important to get professional help as soon as possible—if left untreated, bowing walls will cause much more significant complications down the road.
Stair Step: Stair-step cracks can also be a sign of foundation issues. When the soil beneath your floors shifts and settles unevenly, it puts strain on basement walls and causes them to crack in a stair-step pattern. If this is occurring in your home, you'll most likely need professional help to repair the damage and ensure your foundation remains stable.
Minimally Invasive Foundation Solutions

Blue Umbrella offers reliable, long-lasting, and minimally invasive foundation repair services for both homeowners and businesses. Our professionals can be trusted to deliver the quality foundation repair services you need.
Carbon Fiber Straps (Strips)
For minor basement wall bowing, where the basement walls have not bowed over 2 inches, our carbon fiber strap reinforcement method is fast, minimally invasive, and offers excellent long-term protection. The carbon fiber straps are stronger than steel and are epoxied flush against the offending wall every four feet.
Steel I-Beam Installation
If your basement wall has bowed inwards over two inches, we recommend steel I-beam installation for the most reliable repair. The Steel I-Beams, like carbon fiber straps, are installed along the basement wall every four feet. Contact us today to learn more about our permanent foundation repair solutions!
Prep for Your Martinsville Project
A foundation repair or basement waterproofing project in Martinsville, NJ is no small undertaking, and Blue Umbrella is here to make sure you get the job done right. From choosing a contractor to inspecting the property for any potential issues, there are many steps that must be taken prior to starting work. Martinsville falls within Bridgewater township's jurisdiction.
Bridgewater, NJ Department of Code Enforcement
Location:
Bridgewater Township Municipal Building
100 Commons Way, Bridgewater, NJ 08807
Phone:
(908) 725-6300
Email:
[email protected]
Hours:
Monday- Friday: 9 AM - 5 PM
Helpful Martinsville, NJ Links
Bridgewater Department of Code Enforcement
Construction Permit Application
Get a Free Inspection & Estimate
Blue Umbrella Waterproofing is the premier choice for Martinsville homeowners and businesses when it comes to waterproofing basements, repairing crawl spaces, or foundation repair. We provide the experience and expertise necessary to thoroughly inspect your home or business, identify any weak points, and develop a comprehensive plan of action tailored to your property's needs. 
With a free home inspection, we can quickly assess the damage that needs repair and determine what steps need to be taken in order to complete the job effectively. We pride ourselves on offering excellent customer service with quick turnaround times, so you'll be able to enjoy a safe, dry space in no time at all! Don't hesitate – contact us now at (908) 432-8858 to schedule an inspection today.
Don't Wait to Get Started
The longer you wait, the more your home may be damaged. Let's get started today protecting your home. 
Get My FREE Estimate
Schedule a free inspection today!
Subscribe to our newsletter for the latest tips, tools & news!
Blue Umbrella Waterproofing Proudly Serves These Areas
For more information about basement waterproofing services or to find out if Blue Umbrella serves your area, see our complete service area.