GET MY FREE ESTIMATE
Have crawl space water, mold, or rot? Get permanent protection with Blue Umbrella crawl space waterproofing.
New Jersey Crawl Space Vapor Barrier Installation
Central, Northern NJ, and the Jersey Shore's Crawl Space Experts
You probably don't spend much time thinking about the crawl space in your home. But, a crawl space can be a source of major problems spread to the rest of your home. Installing a crawl space vapor barrier protects your home from the most common cause of crawl space issues: water.
The professionals at Blue Umbrella Waterproofing are New Jersey's experts in crawl space encapsulation. Our team will assess your crawl space and give you an accurate, no-cost, no-obligation estimate for vapor barrier installation. Contact Blue Umbrella today to add this critical layer of protection to your home.
Moisture in Your Crawl Space?
We provide free inspections and estimates. Reach out to us today to fix your wet crawl space issues.
Common Crawl Space Problems
Most crawl space problems come from water and moisture. Any H2O in your crawl space can lead to a myriad of issues, including:
Wood rot
Water damage
Bug and pest infestations
Mold and mildew
Foul and musty odors
Cold floors
Uneven, warped, or sloping floors
Not only do these issues put you and your family's health at risk, but they can also seriously damage your home's foundation. Your foundation is the core of your New Jersey home, providing a stable footing. If damaged, you will end up dealing with issues from the bottom of your home to the roof. Avoiding health risks and foundation problems starts with protecting your crawl space.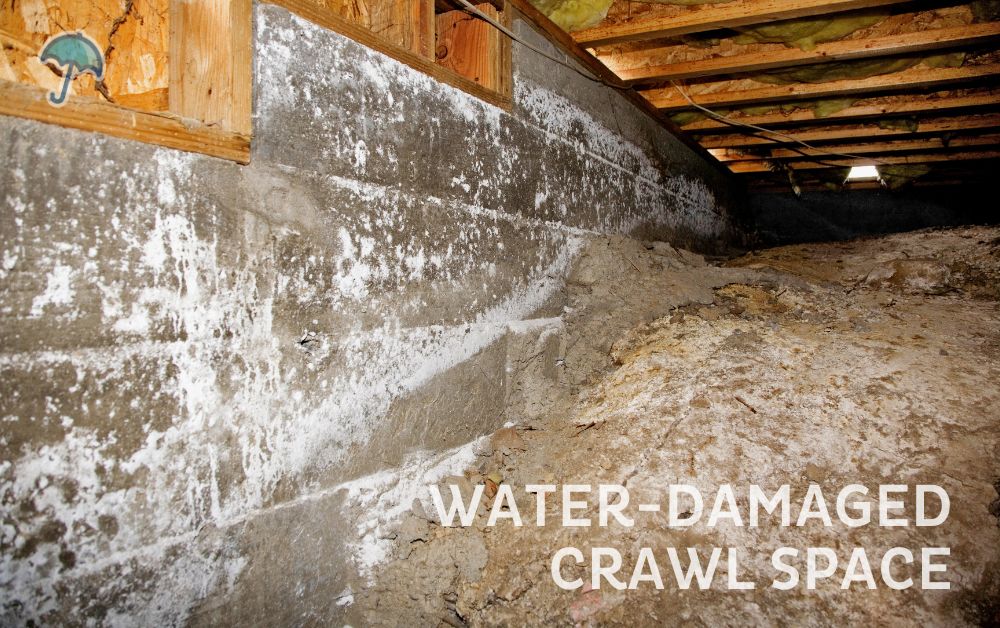 Do You Need a Moisture Barrier in Your New Jersey Crawl Space?
The simple answer is yes. Vapor barrier installation helps prevent all the problems listed above by keeping moisture from seeping through your crawl space's dirt or concrete floors and walls. In fact, energy.gov recommends vapor barriers as an essential part of moisture control. 
By making a small investment in vapor barrier installation now, you are avoiding much more expensive repairs in the future. Keeping water out of your New Jersey crawl space protects your whole home. Vapor barrier installation is the smart choice.
What is a Crawl Space Vapor Barrier?
So you know you need it, but what is a vapor barrier? Crawl space vapor barrier is a thick polyethylene plastic sheeting tightly placed against the walls and floor of your crawl space. The sheeting prevents moisture and water from entering your crawl space. 
Without vapor barrier, there is nothing to prevent damage-causing moisture from making its way in. So, the vapor barrier acts as your home's first line of defense.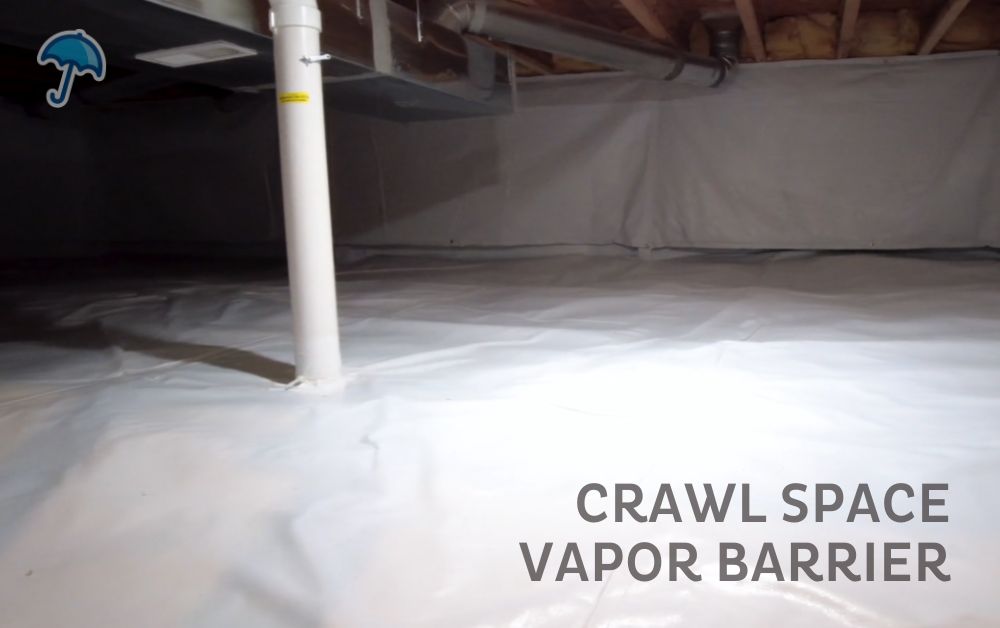 The Benefits of Crawl Space Vapor Barrier
So far, we have focused on how a crawl space vapor barrier saves from a nightmarish host of problems by keeping moisture out of your crawl space. But what are the benefits of vapor barrier installation? Here are some of them: 
Mold prevention

Structural protection for your foundation

Pest & insect prevention

Rust & corrosion prevention

Healthier living environment

Improved energy efficiency

Reduced utility bills and heating bills

Increased storage space
How Long Does a Vapor Barrier Last?
The vapor barrier used for crawl space encapsulation by Blue Umbrella Waterproofing is made of the highest quality material. Additionally, our team of crawl space experts has years of experience installing crawl space vapor barrier in both residential and commercial properties in New Jersey. With high-quality material and expert installation, you can expect your vapor barrier to last 20 years or more and come with lifetime warranties. Yes, you heard it correctly, a lifetime warranty!!
How Much Does Vapor Barrier Installation Cost?
According to The Spruce, the cost of vapor barrier materials varies based on the thickness of the material. The price also depends on the size of your crawl space, which determines how much material is needed.
On average, on its own, the cost of crawl space vapor barrier installation in NJ is between $2,000 to $4,000. But every crawl space is unique, and to get an exact price, you need to have one of our New Jersey crawl space experts inspect your home and provide a complete quote.
Let Us Protect Your Crawl Space
Blue Umbrella's NJ crawl space experts install vapor barrier to protect your crawl space from moisture & water. Call today.
How to Install a Moisture Barrier in Your New Jersey Crawl Space
It's essential that you have a New Jersey crawl space expert like Blue Umbrella install your crawl space vapor barrier to ensure it's done correctly so no moisture can enter the crawl space. While a DIY approach can save you money in the short run, improper vapor barrier installation provides little protection and will cost you more in the long run. 
Here are the steps to proper crawl space vapor barrier installation, which is generally done as part of a complete crawl space encapsulation project. 
Step 1: Start with a Dry Crawl Space
Set up fans or use a dehumidifier to dry the area. This effort may take time, but it is crucial to the project's success. 
Step 2: Prepare the Crawl Space
Clean and scrape walls of any loose paint and efflorescence.
Step 3: Install Vapor Barrier
Prepare the vapor barrier and install it: The vapor barrier on the floor is made of 20 mil vinyl. They are placed over the drainage matting laid down on the ground. 14 mil vinyl vapor barrier is installed on your crawl space walls. It is also wrapped around any support beams or columns.
Vapor barrier can be installed without a whole crawl space waterproofing system, but waterproofing your crawl space is recommended for complete moisture protection.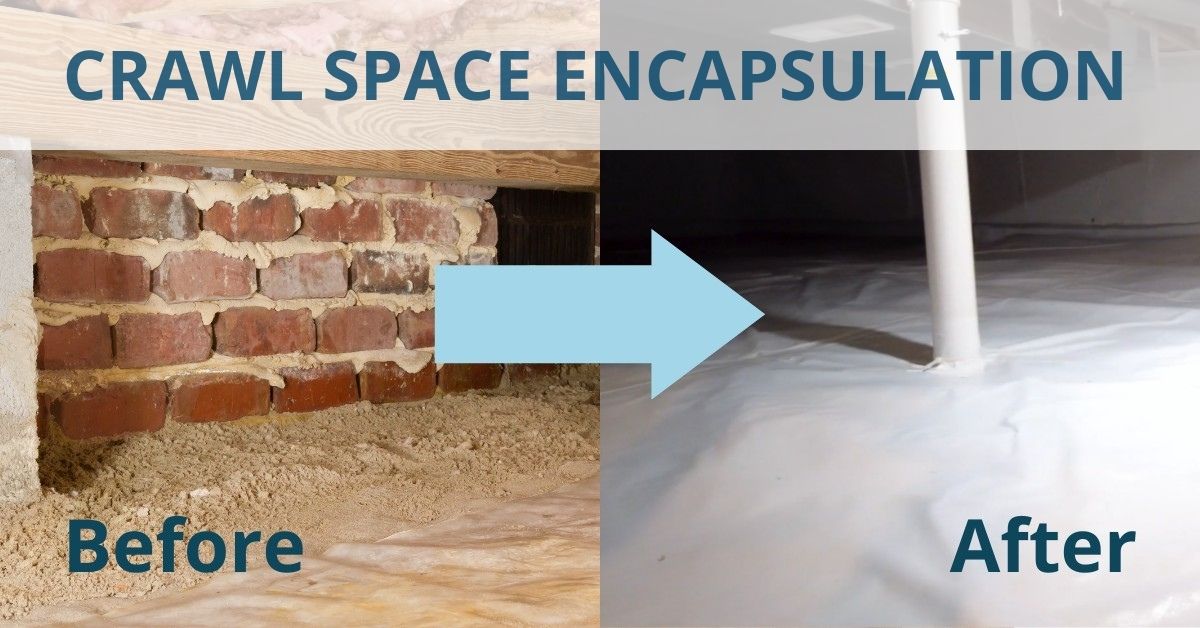 Vapor Barrier As Part of Complete Crawl Space Encapsulation
If you are having vapor barrier installed, it makes sense to fully encapsulate your crawl space to provide complete protection from moisture. So what's included in the encapsulation process?
After the crawl space is dried out and cleaned, and a vapor barrier is installed on the floors and walls, the crawl space entrance and any windows are sealed. Then Blue Umbrella installs a crawl space dehumidifier. 
The crawl space dehumidifier cleans the air in your crawl space, removing any excess moisture that would cause foul odors, wood rot, and mold. Our NJ crawl space dehumidifiers have a hospital-grade (Merv 13) filter system. the filter removes any dust mites, dander, bacteria, or other allergens that would otherwise rise into the rest of your home. 
Afterward, a crawl space sump pump is installed to collect any moisture pulled from the air by the dehumidifier. The sump pump pumps the water up and out of your home through an underground discharge system that brings the water down to the street or safely ejects it at least 15 feet away from the foundation out of a bubbler pot.
For New Jersey homes at greater risk of flooding in the crawl space, we recommend installing a perimeter french drain system to catch any entering water and bring it safely to the sump pump. If you are unsure if you need crawl space encapsulation, crawl space waterproofing, or both, chat with one of Blue Umbrella's crawl space experts. We'll help you find the right solution that fits your needs and budget.
Let Blue Umbrella Keep Your Crawl Space Safe and Protected
Blue Umbrella has over 20 years of experience waterproofing and encapsulating throughout New Jersey. We focus on quality products, long-lasting solutions, and top-notch customer service. We make the vapor barrier installation process easy and stress-free. So if you're looking for a crawl space company for your home, look no further. We are ready to help.
To learn more about crawl space vapor barrier installation, contact the Blue Umbrella team today at 908-432-8858.
Get a Dry Crawl space
Keep your crawl space safe and protected by contacting Blue Umbrella today to schedule a free inspection and estimate.
Get My FREE Estimate
Schedule a free inspection today!
Subscribe to our newsletter for the latest tips, tools & news!
Blue Umbrella Waterproofing Proudly Serves These Areas
For more information about basement waterproofing services or to find out if Blue Umbrella serves your area, see our complete service area.