New Jersey
New Construction Waterproofing
Your New Construction Basement Waterproofing Company for Central & Northern NJ and the Jersey Shore
A new home or business building should be a moment of excitement! But if you have basement water in your new property, it will only be a moment of stress and anxiety. You can avoid all the stress by having your building waterproofed during construction. That's where Blue Umbrella comes in.
Blue Umbrella's new construction basement waterproofing services in New Jersey ensure your home or business remains permanently safe and dry. Instead of waterproofing after you get basement water, get ahead of the problem by waterproofing with new construction waterproofing.
We waterproof both residential and commercial buildings in New Jersey. We are fully licensed and insured, have decades of experience, provide free estimates, and offer a lifetime warranty. So let us waterproof your basement today. Don't hesitate to contact us for a free, no-obligation consultation.
Plan on Building a New Home or Commercial Property?
Let Blue Umbrella waterproof the foundation before anyone moves in. Preempt any future basement water problems.
Why Waterproof Your NJ Foundation During New Construction?
Many new homes require additional waterproofing measures just a few years after construction. In fact, New Jersey homebuilders only have to give a one-year water warranty on the basement. 
Since you will run into basement water issues soon after construction, far better to take care of waterproofing before moving in. Waterproofing the foundation of a building during construction is essential to protect your home, especially in New Jersey, where moisture and water intrusion are a constant threat.
Waterproofing protects against soil dampness, groundwater pressure, rain exposure, and other environmental conditions that strain your structure's foundation. 

In addition to providing increased structural longevity, waterproofing can increase energy efficiency by making your building more airtight and better insulated from outside temperatures. 
A waterproofed basement is also a safe space for a family room, an office, and storage, without the risk of flooding or water damage.
Waterproofing and maintaining a safe humidity level prevent mold growth

and spores which can irritate and even cause allergies for residents. 

New construction waterproofing also decreases the chances of termite infestations which can wreak havoc in your new home. 
New construction waterproofing also avoids the excess costs of retrofitting a waterproofing system. This is especially true of finished basements, which require waterproofers to tear up the floor and portions of the framing, drywall, and woodwork to install a waterproofing system.

New construction waterproofing is still a good idea if you are the builder rather than the buyer. As a New Jersey contractor and builder, you can tell your customers from the start that they can expect a dry, comfortable, usable, and safe environment. Most new construction builders follow minimum code when waterproofing a new build, which is usually not enough to keep a basement safe and dry over the long haul.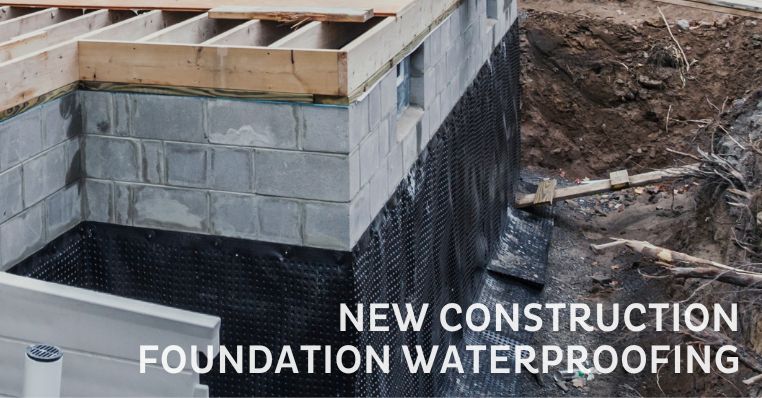 How to Waterproof Your Foundation During Construction
There are several options for waterproofing your NJ foundation:
Damp Proofing:

Intended to deal with soil moisture

Waterproofing Paint:

Intended to stop both moisture and water intrusion

Exterior Waterproofing Systems:

Intended to create an impenetrable barrier on the outside of the foundation walls, keeping water out of the basement.

Interior Waterproofing Systems: Intended to catch the water that finds its way into the structure and move it away from the foundation
In our experience, the most complete solution involves both exterior and interior waterproofing.
About Damp Proofing & Waterproofing Sealants
The most common technique for waterproofing new construction in New Jersey involves the installation of damp proofing membranes or tar coatings. Unfortunately, this fails far too often. Water can still enter through cracks and openings, taking advantage of incorrect installation or poor maintenance of the damp proofing. Furthermore, some materials used for damp-proofing deteriorate over time due to age and exposure to the elements, reducing their effectiveness even further. Though common, there are more reliable waterproofing solutions than damp proofing.
Similarly, using waterproofing paint as an exterior wall protective measure has been proven to be an ineffective waterproofing solution. Research has found that although waterproofing paints offer some protection from moisture, they don't completely seal out water or prevent future problems associated with water damage. Additionally, the coats of waterproofing paint are often too porous, so they retain moisture, creating conditions conducive to mold growth.
Exterior Foundation Waterproofing
Instead of damp proofing or waterproofing sealants, Blue Umbrella uses a system of barriers to waterproof the exterior of your foundation. First, we apply a sealant directly to the outside of your foundation, followed by a blue skin membrane. The sealant and membrane keep water from seeping through or contacting your basement walls. In addition, we protect the membrane by adding a layer of drainage board. This ensures the system remains functional and protected for years to come. But exterior foundation waterproofing is just the first step. We also recommend adding interior waterproofing solutions as well.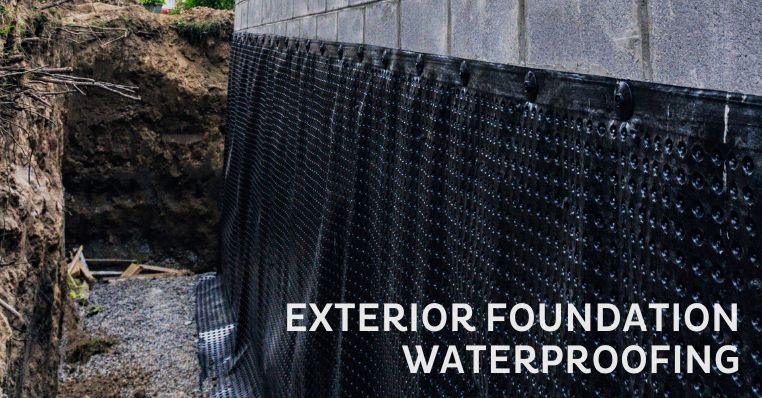 Interior Basement Waterproofing
For interior basement waterproofing, we dig a trench next to the foundation's footing inside the basement to install a french drain. The french drain collects any water that sneaks into the basement and channels it to a sump pump that pumps the water up and out of your home.
Using both exterior and interior basement waterproofing offers the greatest protection for your home or business.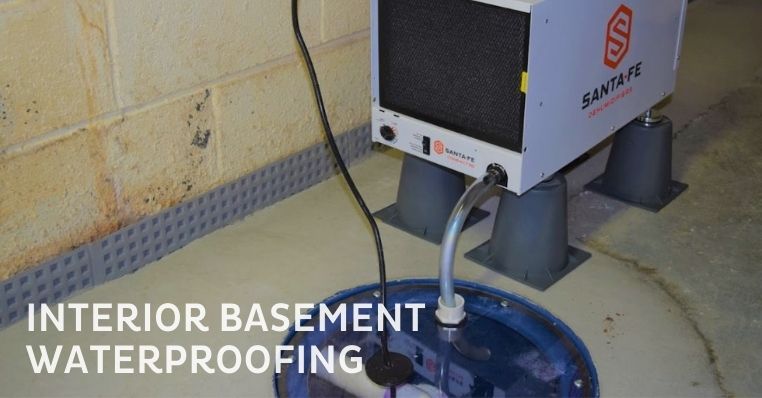 How Much Does New Construction Waterproofing Cost?
Blue Umbrella can provide a customized quote if you want to waterproof your new construction project in New Jersey. The quote is customized because the total cost of every waterproofing project depends on different factors. It depends on the size of your building's foundation, the type of foundation, the level of protection your need, and the amount of material that will be used. All of these factors together determine the final cost.
Ready to Waterproof Your Foundation?
Foundation waterproofing is a preventive measure that can pay dividends in the long run. It protects against potential damage and prevents moisture from entering the home and destroying walls, floors, and appliances. Foundation waterproofing adds an extra layer to ensure your investment is well-protected. 
You need permanent solutions using the right materials and products installed by experienced, proven professionals backed by decades of waterproofing experience. You need Blue Umbrella, your New Jersey new construction waterproofing company. We have decades of experience and have helped hundreds of homeowners and businesses throughout New Jersey keep their homes and property protected with permanent, warrantied waterproofing solutions. 
Contact us today to learn more about our services or to schedule an appointment for your no-obligation inspection and free estimate.
Let Protect Your Foundation
Reach out to us today to schedule an inspection & free waterproofing estimate for your new construction project.
Get My FREE Estimate
Schedule a free inspection today!
Subscribe to our newsletter for the latest tips, tools & news!
Blue Umbrella Waterproofing Proudly Serves These Areas
For more information about basement waterproofing services or to find out if Blue Umbrella serves your area, see our complete service area.