Why Sump Pumps Fail: Causes, Prevention, Repair & Replacement
New Jersey's Trusted Basement Sump Pump Professionals
Have water in your basement, but you already installed an interior basement waterproofing system? If that's the case, your sump pump may be failing. You will need to have it repaired or replaced. When it comes to sump pumps and waterproofing your basement, you need a professional's help. You need Blue Umbrella Waterproofing.
Hundreds of home and business owners in New Jersey have turned to Blue Umbrella, NJ's top waterproofing company, for basement waterproofing solutions. So, give us a call today to schedule your no-obligation inspection.
In the meantime, let's explain the ins and outs of sump pump failure: how sump pumps work, what causes them to fail, how to get them fixed, and everything in between.
Sump Pump Not Working?
Blue Umbrella is your solution. We provide proven, permanent expert sump pump services for NJ residents.
How Does a Sump Pump Work?
Knowing the basics of how a sump pump is supposed to work can help you understand why yours might have failed.
A sump pump is a machine housed in a sump pump basin/pit placed in a hole below the level of your basement floor. Its purpose is to pump out any basement water. Your sump pump basin is connected to a perimeter french drain system that collects water in your basement and channels it to the basin.
As the water accumulates and fills your basin, it triggers your sump pump's float switch, which turns on your sump pump. The pump, powered by electricity, sucks in and pushes the water up through a discharge pipe that leads up and out of your basement, dispelling the water a safe distance (at least 15 feet) from your home's foundation.
When your sump pump is working correctly and is adequately maintained, it keeps your basement safe and dry, which is why sump pumps and interior waterproofing systems are becoming commonplace in New Jersey homes. But like everything, sump pumps don't last forever, but how long should they last?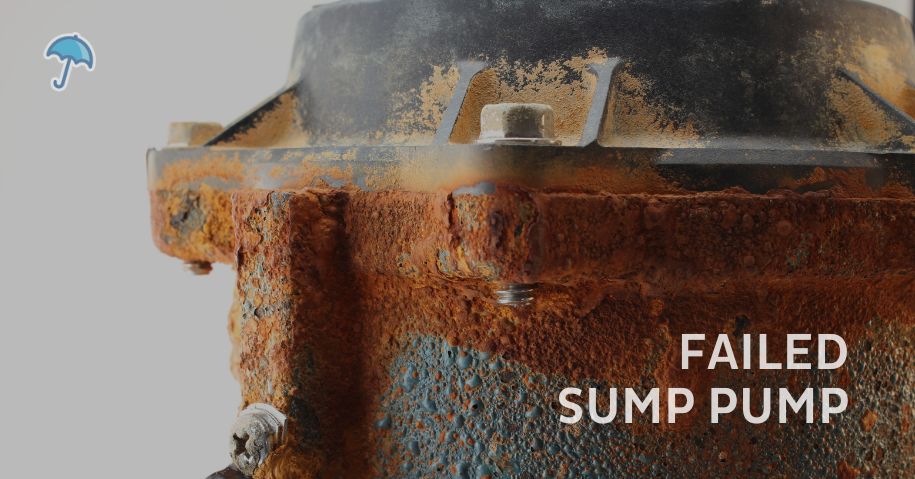 How Long Do Sump Pumps Last?
If you have an NJ basement waterproofer, like Blue Umbrella, install your sump pump and regularly inspect and perform needed maintenance; your sump pump could last around ten years.
Your likelihood of your sump pump hitting that 10-year mark depends on three things, the quality of your pump, how much basement water you get, and the regularity of maintenance.
The Quality of Your Pump
First, quality. If you buy your sump pump from a big box store, you'll have one that works, but only for a short time. That's because quality is everything. You don't expect a $50 pair of shoes to last a lifetime - the same reasoning applies to your sump pump.
That's why Blue Umbrella only installs Zoeller and professional-grade Blue Angel by Wayne sump pumps in New Jersey homes and businesses. These brands are known for their quality and have been tested for up to one million cycles (the pump turning on and off). The pumps we install will go the distance.
How Often Your Pump Runs
But, even with a great sump pump, how frequently it needs to run is a limiting factor in your pump's lifespan. The less often your sump pump needs to turn on, the longer it lasts. You can make your pump last longer by taking care of a few basic things that prevent water from getting in your basement in the first place.
These include grading your yard to have water flow away from your foundation, having adequate and clean gutters, and installing long enough downspouts.
Sump Pump Maintenance
We'll cover it in greater detail below, but the third factor affecting the lifespan of your sump pump is maintenance. A correctly installed and working sump pump is your best friend, but just like any long-lasting friendship, sump pumps require maintenance and care.
Regular annual sump pump inspections and maintenance services can spot issues like clogged discharge pipes, broken float switches, or clogged intakes that, if not fixed, will lead to basement water and pump failure.
With proper grading, gutters, downspouts, a quality sump pump, and regular maintenance, your basement should stay safe and dry for years. But sump pumps still do fail. Why? We've covered some reasons; let's break down the rest.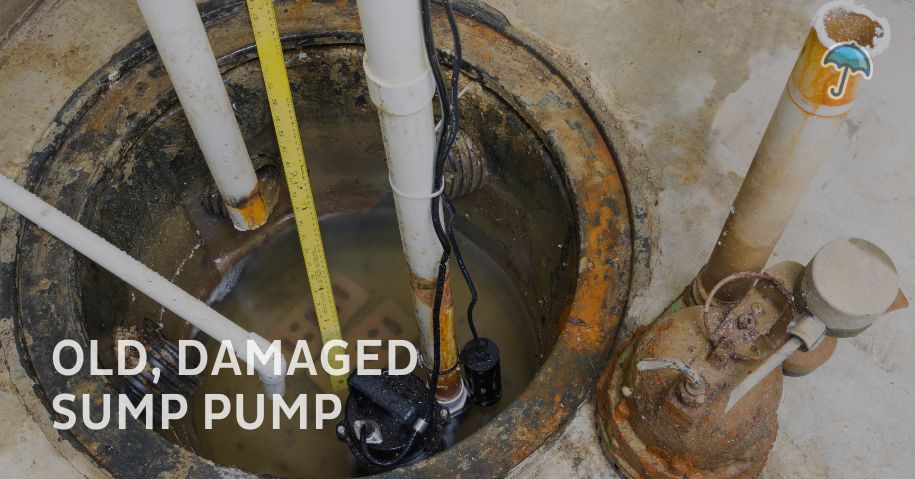 What Causes Sump Pump Failure?
As New Jersey's trusted basement waterproofing company, we've replaced thousands of failed sump pumps and understand sump pump failure. Here are the top reasons why your sump pump stopped working.
Overwhelmed Pump.

Have you ever been burned out at your job because you were assigned an unrealistic amount of work? It happens to pumps, too. The size of your basement and the level of basement water determines the pump size you need. But, inexperienced waterproofing companies install pumps that are too small - often because they are the (initially) cheaper option. Unfortunately, these pumps quickly become overwhelmed by the volume of water to be pumped and burn out, requiring replacement
Cheap Parts.

Cheap pumps are built with cheap parts. These inferior parts can break, causing your pump to stop working. Faulty float switches are a common offender. What makes matters worse is that broken parts go unnoticed until a big storm when your basement is flooding, and you need your sump pump the most. You can prevent basement water headaches by having a quality sump pump installed.
Power Failure.

Your home's electricity powers your primary sump pump. But big storms often cause power outages, and no power in your home means no power to your sump pump! To avoid losing your waterproofing in a storm, Blue Umbrella installs

backup battery-powered sump pumps

to protect your home.
Clogged Intake or Discharge Line.

Dirt, debris, and silt can build up in your french drains (you need to have them cleaned annually), and sometimes this debris clogs up your sump pump intake or discharge line, inhibiting its full function and backing up water into your basement. If this happens, you need a waterproofer to clean your sump pump and lines thoroughly.
Frozen Discharge Line.

Your discharge line is the pipe that transports water from your sump pump to the outside of your property. If there's standing water in the discharge pipe in the cold months of the year, the water can freeze, clogging the pipe. The clogged line puts excess strain on the sump pump as it continually tries to pump water up the frozen discharge line. Eventually, the sump pump will burn out.

Lack of Maintenance.

Going back to the friendship analogy, the relationships you keep up with consistently last the longest. Same with sump pumps. It's important to review your pump's maintenance requirements and give it the routine care it needs before issues occur.
Any of these issues can prematurely send your sump pump to the big basement in the sky. But don't worry; Blue Umbrella offers free onsite inspections to help determine the cause of failure and how to solve the problem.
Don't Let a Bad Sump Pump Destroy Your Basement
A damaged sump pump will lead to basement water, damage, and rot. But Blue Umbrella can prevent that from happening.
Should I Repair or Replace My Sump Pump?
When it comes to sump pump issues, the crucial decision is to either fix the sump pump or replace it with a new one.
Should I Fix My Sump Pump
For minor damage, your best bet is to contact the original waterproofing company that installed your sump pump to handle the repairs. Clogged intakes, frozen pipes, or simple float switch problems are minor issues that can be easily repaired.
Should I Replace My Sump Pump
However, if your sump pump has incurred significant damage or your first waterproofing company incorrectly installed the wrong-size sump pump, you will need a new sump pump. The damage may be substantial if your sump pump is:

Consistently not turning on correctly

Making weird noises

Running nonstop

Frequently cycling on and off



Blue Umbrella Waterproofing is your trusted professional for sump pump installation in New Jersey. When we replace your damaged pump, we guarantee your new sump pump is a high-quality, reliable piece of engineering that will protect your home for years to come.
What Are the Best Basement Sump Pumps?
At Blue Umbrella, we've seen a lot of sump pumps in NJ. We've seen which ones fail and which ones work. And that's why we only work with two exceptional brands of pumps.
Zoeller Sump Pumps
The Zoeller pumps we use are professional-grade pumps with 3/10 HP. Their switch case, motor, and pump housing are durable cast iron. The 53 model comes with a three-year warranty, and the 63 model has a 5-year warranty.

Zoeller pumps also have a vortex impeller design. The vortex impeller is the fan that creates the force to pump out the water. The impeller design also stops oversized items from getting into and clogging your pump, protecting your basement waterproofing system.
Blue Angel by Wayne Sump Pumps
If you have significant basement water issues, we recommend our premium option, Blue Angel pumps. The F50CIS is a professional-grade, all-cast iron submersible pump with ½ HP. Another option is the SSF50S, a high-end submersible stainless steel sump pump.

Both Blue Angel models are ultra quiet and designed to last, with an average life that exceeds 1,000,000 pumping cycles!
You Need Regular Sump Pump Inspections & Maintenance
As good as these pumps are, they're unfortunately not indestructible (we'll be the first to let you know when those come out). But with regular maintenance, you can significantly extend the lifespan of your sump pump. Here are a few simple things you can take care of on your own:
Check the Float.

The float switch is one of your pump's most simple but critical pieces - it controls when your sump pump turns on. At least once per year, test your float switch by removing the cover of your sump basin and pouring in a bucket of water. As the float rises or your sensor is engaged, your pump should turn on and drain the water.

Test the Check Valve.

Your check valve prevents any water pumped up your discharge line from falling back down into your sump basin. When you check your float switch, watch to ensure the water is pumped out and no water returns to the pit. If you see the water start to fill your sump basin after your pump has started, your check valve is likely malfunctioning.

Clean the Sump Pit and Impeller.

Over time, debris can build up in your sump basin. Periodically inspect and remove any buildup at the bottom of the basin and anything impeding your pump's impeller.



Check your pump's manual for the correct times to inspect each part of your sump pump. And if you've got too many things on your plate or want an extra level of peace of mind, Blue Umbrella offers an affordable, year-round maintenance plan, where were take care of all the maintenance for you.

While your sump pump is critical to keeping your basement dry, it's essential not to neglect the other parts of basement waterproofing.
A Sump Pump Is Part of a Complete Waterproofing System
Your sump pump is the star of an interior waterproofing system, but without the rest of the team supporting it, the star can't truly shine. That's why Blue Umbrella provides expert installation and maintenance of complete basement waterproofing systems, including backup pumps, french drains, exterior drainage, and basement dehumidifiers. We offer the whole "team" of basement waterproofing to ensure your basement always stays dry.
With how sump pumps work, why they fail, and when to fix and replace them, your next step is to contact Blue Umbrella Waterproofing.
Review: Sump Pump Failure FAQs
We've broken down everything you need to know about sump pumps. Let's quickly review some of the common sump pump questions we've answered.
Do I need a sump pump?
If you are facing basement water problems – most likely, an interior waterproofing system is the right solution, which includes a sump pump installed below the floor of your basement. So, yes, you need a sump pump.
How long does a sump pump last?
A good sump pump can last ten years. The exact lifespan of a sump pump will depend on the quality of the pump, how often it runs (how much basement water you have), and if it is regularly maintained.
What causes a sump pump to fail?
The most common reasons for sump pump failure include the pump being poor quality, the pump being too small to handle the amount of basement water you have, and clogged or frozen intake or discharge lines, and a lack of maintenance.
Should your repair or replace your sump pump?
Simple issues like clogged intakes or a damaged float switch can be easily repaired, but if you notice your sump pump consistently making weird noises, running nonstop, or frequently cycling on and off, there is likely an issue with the motor or the internal pump components and its likely time to replace the pump.
What are the best basement sump pumps?
There are many good quality sump pumps – among the best are Zoeller sump pumps – and even better Blue Angel by Wayne pumps.
How do I maintain my sump pump?
Once a year, you should pour a bucket of water into the sump basin to run the pump, checking that the float switch is working correctly and that your check valve is not letting any water fall back into the pump. You should also check your pump's manual for how to clean the sump pit and impeller.
Let Blue Umbrella Install a Reliable Sump Pump
A quality sump pump installed and maintained by a professional New Jersey basement waterproofer, like Blue Umbrella, can save you thousands in the long run. One inch of water in the basement can cost over $25,000 in damage! We help protect your home and avoid expensive damage.
With over 20 years of experience and thousands of waterproofing projects under our belt, we are the solution you have been looking for. So, request a no-obligation sump pump inspection and estimate. Call us at 908.432.8858 or connect with us online today.
Let Blue Umbrella Deal With Your Sump Pump Problems
Contact us today to request a free inspection and no-obligation estimate for your sump pump.
Get My FREE Estimate
Schedule a free inspection today!
Subscribe to our newsletter for the latest tips, tools & news!
Blue Umbrella Waterproofing Proudly Serves These Areas
For more information about basement waterproofing services or to find out if Blue Umbrella serves your area, see our complete service area.