What Causes Musty Basement Smells & How to Prevent It
New Jersey's Experts on Preventing Musty Basement Smells & Damp Basement Air
If you've lived in New Jersey long enough, you've probably been in plenty of basements, whether it's your own basement or someone else's. So you already know that basements tend to be cooler and darker than the rest of the home.
You might even associate basements with a musty, stale smell. But this smell isn't intrinsic to basements. Rather, it's the result of a moisture-related problem that exists in thousands of NJ basements. Many people overlook the issue because their basement isn't finished, or they think that the smell is normal for any basement.
It's only when other problems arise, or the smell becomes unbearable that people finally take action. When in reality, it's much better to remove the water and moisture long before you notice that bad basement smell.
Have Basement Smells?
Blue Umbrella is New Jersey's solution. We provide proven, permanent basement waterproofing to manage damp air and musty smells.
Why Does My Basement Smell Musty?
Like attics, basements have their own unique properties. Basements are either partly or entirely below ground level. The lack of natural light, combined with the surrounding exterior dirt acting as a natural insulator, means that basements tend to stay dark and cool.
The reason why many basements smell musty is because, when left to their own devices, they create the perfect environment for mold and mildew to grow. Mold thrives in dark, cool, and moist environments. Because excess moisture is such a common problem in NJ basements, whether the moisture is due to a plumbing leak, wall cracks, or a combination of issues, basements become a natural breeding ground for mold and mildew.
By the time you detect a musty smell in the basement, which typically resembles the smell of a wet dog or a pile of damp clothes, it means there's already mold in the basement.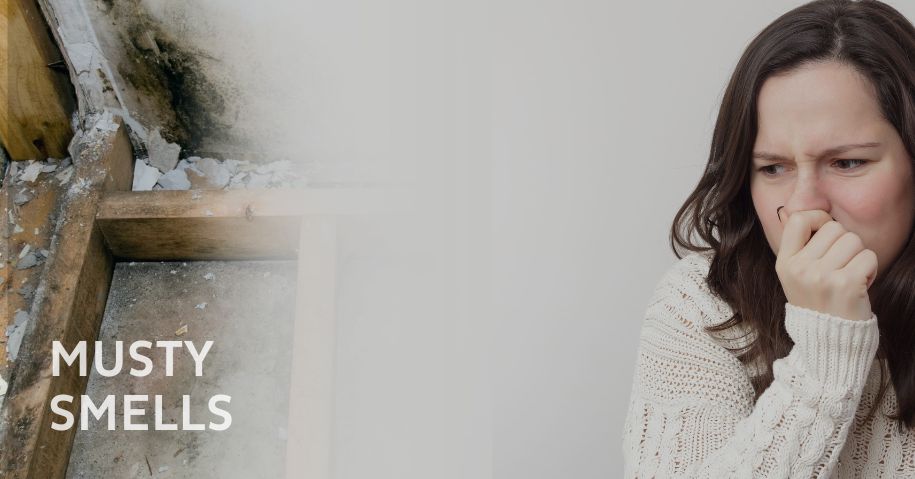 What Causes Humid Air & Musty Smells in My Basement?
You can't have a musty smell in your New Jersey basement without some sort of moisture-related issue. The unpleasant smell can be traced to a number of sources, including:
High humidity levels.

To prevent mold and mildew from growing in the basement, indoor humidity levels should always remain

between 30-50%.

The best way to control indoor humidity levels is by having a

dehumidifier

installed in the basement.
Standing and stagnant water within the basement walls.

Standing water is mold's best friend. Your basement walls can hold old, stagnant water that can be building up for decades or even 100 years, depending on when the home was built. If we detect water within the walls, we'll

drill weep holes into the walls

to remove the water and help eliminate the smell. 

 

 
Rotting organic materials.

When there's too much moisture in the basement, this can cause wood and other organic materials in your basement to rot. This does more than produce a nasty smell in the basement. Knowing that our homes are largely made out of wood, rotting wood caused by excess humidity can compromise the structural integrity of the home. 
Mold & mildew growth.

As we previously mentioned, a musty smell coming from the basement indicates the presence of mold or mildew.

Damaged sump pump cover.

An uncovered sump basin or basin with a damaged lid will release even more moisture into the air, further facilitating the growth of mold and, as a result, a basement odor.

Pest infestation. The foul odor can also be the result of a pest infestation that needs to be treated.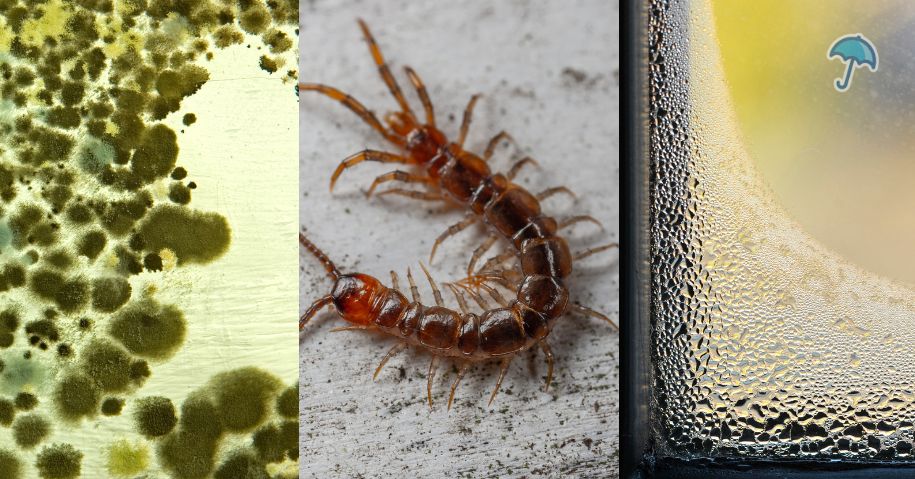 Remember: Musty Smells & Humid Air Are Signs of Underlying Moisture Problems
By the time you notice the smell of chocolate chip cookies, they're already baking in the oven. Well, by the time you notice a musty smell coming from the basement, the moisture problem is already there. Using an air freshener to mask the smell isn't going to resolve the issue.
In order to remove the smell and mold for good, you need to correct the underlying issue. That is the excess moisture.
Are Musty-Smelling Basements Dangerous?
Ultimately, the severity of the problem will depend on which type of mold is present and whether the mold has compromised the structural integrity of the home. Mold releases spores into the air that we inevitably breathe in.
This can result in a number of health issues, including allergy symptoms, asthma symptoms, and upper respiratory infections. Removing the mold and, in turn, the musty basement odor is as important for our own health as it is for the health of our homes.
How Can I Prevent Musty Basement Smells?
Moisture control is the key to preventing a musty basement smell stemming from mold and mildew. We cannot change the fact that mold feeds on wood and other organic materials that naturally exist in our homes. What we can change is the amount of moisture in our basements. Mold doesn't become a problem until moisture enters the equation.
So if you can control that excess moisture in the basement, then you can prevent mold, mildew, and their accompanying smells. Here are the most effective ways to keep that moisture out of your NJ basement:
Seal Up Any Basement Leaks
Have you ever noticed during the warmer months when your toilet looks like it just stepped out of the shower? This is called "toilet sweating," and it occurs when warm, damp air hits the colder surface of the toilet. The same phenomenon can occur with the pipes in your New Jersey basement.
Sweating Pipes. If the pipes are sweating and releasing moisture, insulate the pipes to prevent future condensation. There can also be a plumbing leak or other plumbing-related issue that you'll want to have a plumber come in and fix.
Basement Windows. Make sure water isn't getting through the basement windows when it rains or snows. Caulk and weather stripping can fix more minor leaks. But if the leak is more serious or if the windows in your home are older, then it's time to replace them.
Basement Floor. Water can also come up through the floor or seep in through existing wall cracks. The method for treating the cracks and water entry points will ultimately depend on how the water is getting in, how large the crack is, and the type of crack.
If water is seeping through the floor, this can be due to a number of reasons, including poor drainage, a cracked foundation, leaking pipes, and more. You'll want to consult an NJ waterproofing company that can accurately diagnose the issue and recommend the right treatment plan.
Clean Up Mold & Mildew Spores in the Basement
Once the underlying moisture issue is fixed, it's time to remove that mold and mildew. If the mold is contained in a relatively small area, you can scrub and remove the mold using a bleach-water solution. However, if the mold is more than 10 square feet, you'll likely need to call a mold remediation company.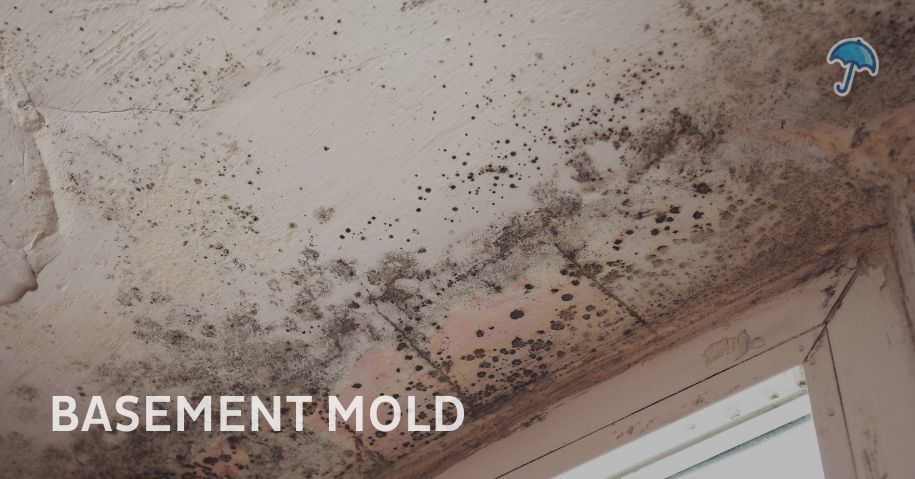 Control the Basement Humidity With a Dehumidifier
Mold thrives when humidity levels are over 60%. A dehumidifier is your best bet for keeping your basement humidity levels within the ideal 30-50% range. At Blue Umbrella, we carry AprilAire® dehumidifiers that are specifically designed for NJ basements. The majority of dehumidifiers found in hardware stores lack the capacity that NJ basements need. The systems we install can remove up to 100 pints of water per day.
The last thing you want to do is invest in a standard dehumidifier only to learn that it's not doing the job. To ensure a true, lasting solution that will reliably keep your basement dry and odor-free, we install industry-leading AprilAire systems designed to meet the high demands of humid NJ basements.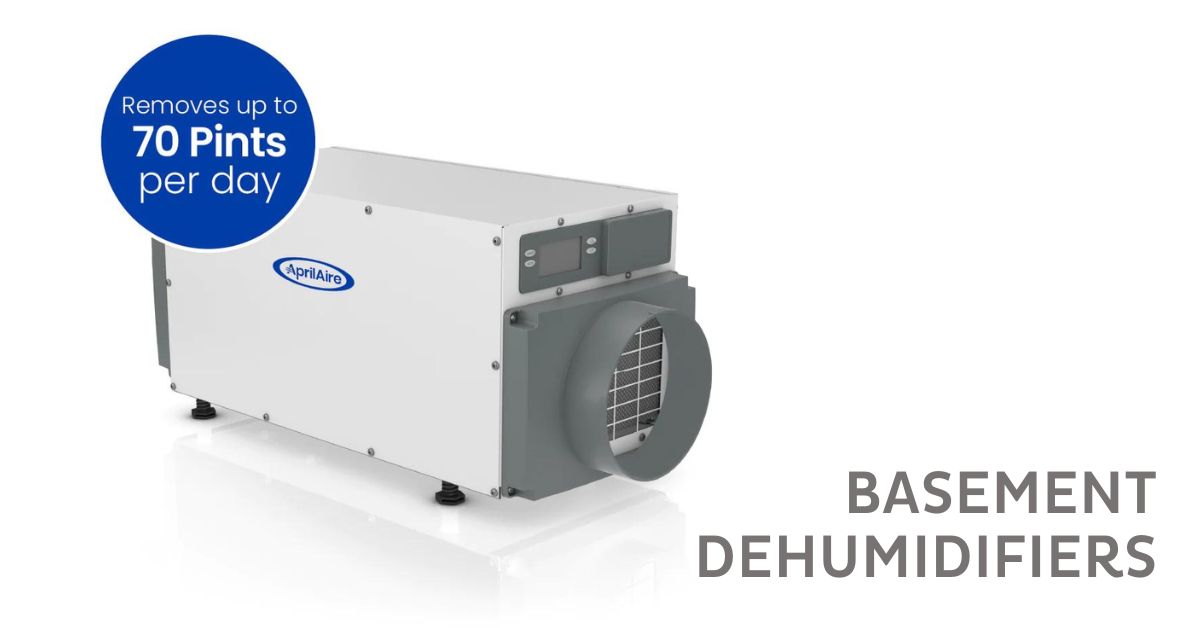 Waterproof Your Basement
You can scrub the mold with everything you've got. But at the end of the day, working with a New Jersey waterproofing company is the most effective way to keep the mold and basement smells away. Our approach goes straight to the source, fixing the underlying issue that's allowing water to seep in through the walls and floor. We offer both exterior and interior waterproofing strategies.
This is typically the best option for existing homes because it's minimally invasive and more affordable than exterior waterproofing. With this approach, we'll dig a trench around the interior perimeter of your basement to install a French drain next to the foundation footing.
While this doesn't prevent water from entering the basement altogether, it alleviates hydrostatic pressure and reroutes water to the sump pump basin. From there, the water is pumped up through the discharge line and pushed far away from your home, never to return. Standing water is what facilitates mold growth, and musty basement smells.
So even though the water is still entering, it will immediately flow through the interior French drain system and into the sump basin, where the sump pump expels the water up and safely out of the home. Installing a dehumidifier is the final step to an interior waterproofing solution, ensuring your basement humidity levels stay low all year long.
This involves applying a sealant to the outside of the foundation, followed by a blue skin membrane and drainage board. This method is most feasible for new construction projects. For existing homes, interior waterproofing is the less invasive, more affordable approach.
This is why we'll generally recommend interior waterproofing for homes that are already built unless there's a specific reason to waterproof from the outside, which we'll certainly share with you.
Call On Blue Umbrella to Keep Musty Smells Out of Your Basement
Don't settle for a musty basement that feels more like a burden than extra space in your NJ home. At Blue Umbrella, we've helped thousands of customers freshen up their New Jersey basements and, more importantly, fix the underlying moisture issue.
Step under the umbrella with our New Jersey waterproofers to stay dry and keep your basement odor-free, as it always should be!
Bring An End to That Musty Basement Smell
Contact us today to request a free inspection and no-obligation estimate for your New Jersey basement.
Get My FREE Estimate
Schedule a free inspection today!
Subscribe to our newsletter for the latest tips, tools & news!
Blue Umbrella Waterproofing Proudly Serves These Areas
For more information about basement waterproofing services or to find out if Blue Umbrella serves your area, see our complete service area.