Water in Your Basement - What to Do & How to Prevent It
New Jersey's Experts On Basement Water Causes & Prevention
A basement is an asset, but a wet basement is a problem. Not only does cleaning up basement water require a lot of effort, but basement water can lead to other issues like mold, mildew, property damage, and unsafe living conditions.
Having a wet basement is more common than you think. Thousands of New Jersey homeowners wake up each morning to find water filling their basements. Thankfully, Blue Umbrella can help you put an end to your basement water woes. We've installed interior and exterior waterproofing systems in homes and businesses across New Jersey, keeping our customers' basements safe and dry.  
The best way to deal with basement water is first to educate yourself. Let's break down what you need to do about the basement water, the potential causes, and how to prevent future problems.
Frustrated By Basement Water?
Need help with basement water problems? Blue Umbrella offers reliable, proven basement waterproofing solutions.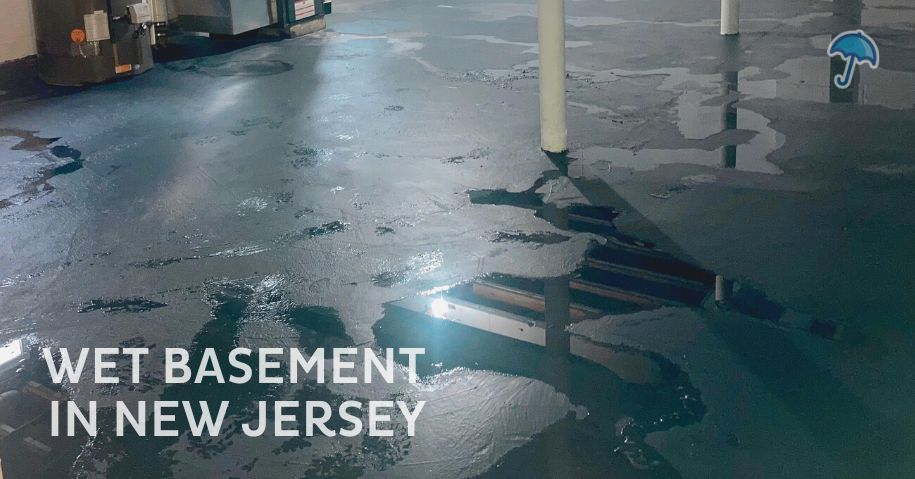 What Do I Do If My Basement Is Wet?
Your basement is wet. What do you do? Well, whether you have a damp spot on your carpet or inches of standing water across your basement floor, you must take action to prevent further damage. Here are your first steps.
Take Safety Precautions.

Safety first! Turn off the electricity to your basement if you can safely access your electrical panel. If you have inches of standing water, the pilot light to basement gas appliances may have been put out, which can lead to gas build-up in the basement. If you find yourself in this situation, call a professional immediately. 

Remove Your Property.

Remove any furniture, carpets, or boxes to prevent mold and damage to your property. If you cannot move an item, raise it so it is not sitting in the water. 

Find The Source of The Water.

Look for the source of the water. Pay attention to if the water is near a wall, the middle of the floor, or close to an appliance. When you call a plumber or New Jersey basement waterproofing company, they'll likely ask if you see where the water came from.

Have The Water Pumped Out Immediately.

Remove the water as soon as possible, using a rented wet-dry vacuum to pump out the water. You may have to make a few passes over the same area with the wet-dry vacuum to suck up all the water, especially if your basement has carpet. 

Keep an Eye Out for Mold. The first time you notice water down in your basement does not mean it is the first time it has happened. Water can seep behind basement walls, carpets, and tucked-away areas. If you have had basement water in the past, you may also have basement mold. As you remove your property and clean up the water, look out for mold, which may have grown on fabrics, wood, carpets, or other organic materials in your basement. Call a mold remediation company to take care of mold if you find any.
Waterproof Your Basement to Prevent Future Disaster

. After removing the water and dealing with any mold issues, you need to call a trusted New Jersey basement waterproofing company like Blue Umbrella to install a waterproofing system to prevent water from getting into your basement ever again.
That summarizes your immediate next steps if you have basement water, but how did the water get into your basement in the first place?
Why Is My Basement Wet?
Knowing the common causes of basement water can help you prepare for and prevent basement water problems.
Water In The Middle Of Your Basement Floor
If you see water spots in the middle of your basement floor, the water came from the ceiling or the floor. Look up at the basement ceiling. Do you see discoloration? Do you feel any dampness when you touch the ceiling? If so, take a look upstairs for any leaky appliances or pipes. 
If there are no indications of water coming through the ceiling, the water will likely come up through the floor, forced up by hydrostatic pressure.
Hydrostatic Pressure.

There is water in the ground around your New Jersey basement. As the water in the soil builds up due to high water tables or heavy rainfall, the water presses outwards, coming up against your foundation walls and floor. Given enough pressure, the water will push through the concrete of your foundation floor up into your basement, wetting the middle of your basement floor.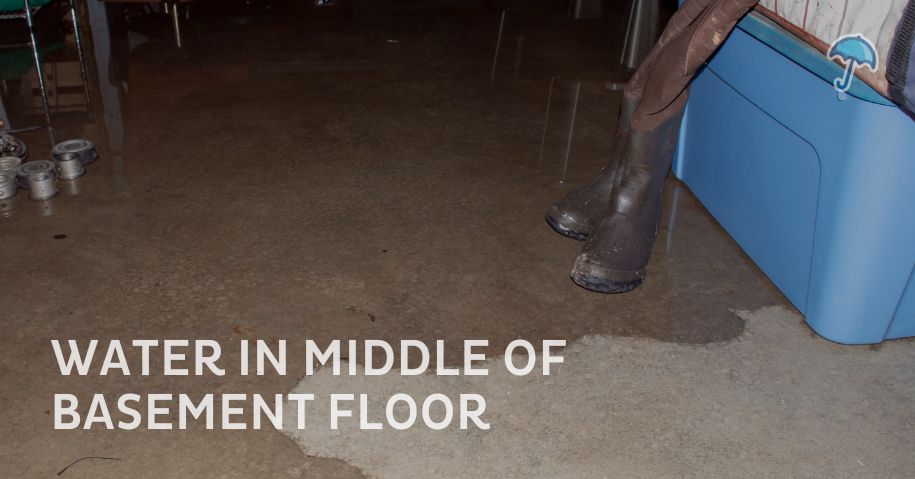 Water Near Your Basement Walls
Another common place to find water is along your basement walls, which can be caused by several things.
Hydrostatic Pressure.

Hydrostatic pressure again! Just like your basement floor, hydrostatic pressure can push water up against and through your basement walls. 

Leaking Basement Windows.

Improperly installed and sealed basement windows allow water to enter your basement.

Leaking Stairwell/BILCO Entrances.

Similarly, a poorly designed or old basement stairwell or BILCO entrance without a reliable seal can allow basement water to leak down into your basement. 

Overflowing gutters.

Inadequate or clogged gutters lead to overflow and water collecting around your home, which seeps into the ground and eventually into your basement. 

Short Downspouts.

Your downspouts should carry water collected by your gutters at least four feet (preferably farther) from your home. Short downspouts discharge the water too close to your home and cause it to pool around your basement walls.

Yard Drainage.

The grading of your lawn can also be an issue. Improper grading leads to rainwater flowing naturally toward your home rather than away from it.

Moisture Due To High Humidity. Water can enter your basement directly through the air. If hot, humid outside air enters your basement and comes in contact with the cool basement walls, condensation will form, and water will run down the basement walls of your NJ home.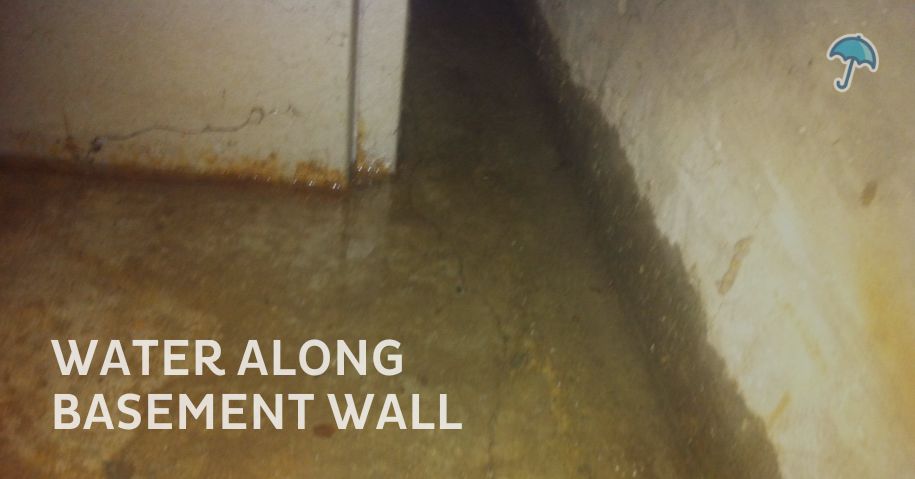 Water Across the Basement Floor (Basement Flooding)
If you walk downstairs and see water not only at the basement walls or in the middle of the room but across your entire basement floor, you are facing a significant problem or system failure. Common culprits include:
Leaky Plumbing & Appliances.

A large amount of basement water that appears quickly is usually a plumbing leak. Check all your basement appliances for leaks. Look at washing machines, hoses, water heaters, and pipes. If you find a leak, call a plumber immediately. 

Sump Pump Problems.

If you have an outdated existing interior waterproofing system with an old, inadequate, or improperly maintained sump pump, your pump may be overwhelmed or fail. Or, if there is a power outage during a rainstorm and you don't have a battery backup pump, your waterproofing system won't remove any entering water, leading to water spreading across your basement floor.

Clogged French Drains.

Over time, sediment can build up in the french drains of interior waterproofing systems. If your system has not been inspected and maintained regularly, your french drains can become clogged, preventing them from effectively removing basement water.
At this point, you know your immediate steps to deal with basement water and likely basement water causes to look for. Your last step is to understand what you need to do to stop basement water problems from happening again in your New Jersey home.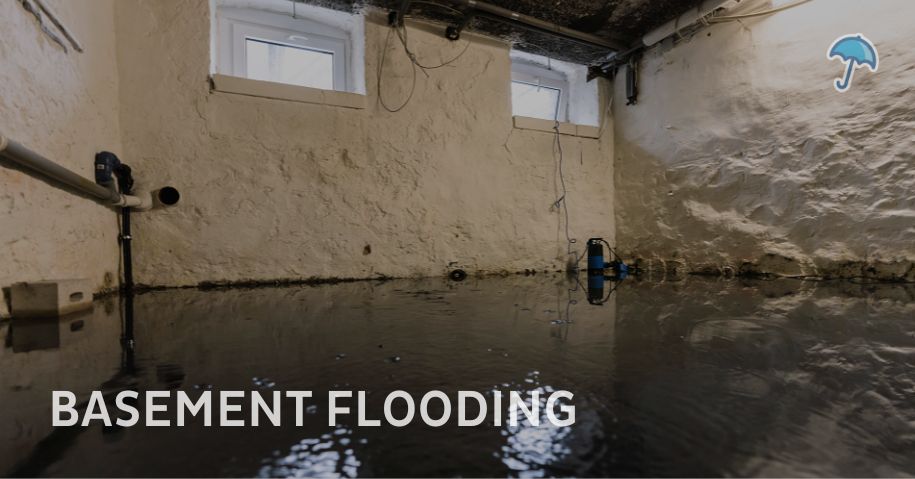 How Do I Prevent Basement Water?
Let's answer the most critical question — how do you prevent water from getting in your basement ever again? Here are the steps to ensure you are never the victim of basement water again.
Handle the Basics
Interior Appliances & Plumbing. We pointed out that interior leaks can cause basement water. Preempt any problems by inspecting your basement every couple of months. Check your water heater and other water-carrying appliances - to see if there are any cracks in hoses, unusual signs of corrosion or rust, or discoloration from water leaks. Do the same for any basement plumbing - keep an eye out for drips or damaged pipes. If you spot a problem, call a plumber so they can fix worn or damaged parts before they become an issue.
Gutters & Downspouts. Outside of your home, make sure that your gutters remain unclogged and that your downspouts are safely moving any collected rainwater away from your home. If your gutters are damaged, clogged, or don't fully cover the length of your roof, it's time to call a roofing company to fix or install additional gutters. 
Yard Grading. Take a look at the grading of your yard. Does it slope down towards your home? If so, call a landscaper. They can fix the grading of your yard so that it slopes away from your home, carrying any rainwater away from your foundation.
If you have already accounted for interior leaks, your gutters, and your yard, and you are still facing basement water problems, you need a professional New Jersey basement waterproofing system by Blue Umbrella.
Add Basement Waterproofing
A waterproofing system comprised of high-quality products and materials installed by an experienced professional can keep your NJ basement safe and dry. At Blue Umbrella Waterproofing, we have installed interior and exterior waterproofing systems for hundreds of customers across New Jersey. Here is a brief explanation of the two basement waterproofing approaches (exterior and interior).
Interior Basement Waterproofing
Interior basement waterproofing happens inside the walls of your foundation. The waterproofing system captures any water seepage and safely removes it from the basement without the water ever causing any issues. We follow these steps to install your interior waterproofing system.
First, we create a trench in your basement floor along the base of the walls. We fill the bottom of the trench with ¾ inch clean crushed stone.

Weep holes are drilled in the basement walls above the trench in the lowest course of the block. We drill holes in every course of every block, including the mortar joints alleviating the hydrostatic pressure.

We place a 4-inch perforated pipe on top of the crushed stone in the trench and then cover it with ¾ inch clean crushed stone, six mil plastic/vapor barrier, and high-strength concrete, leaving the new concrete level with the existing basement floor. 

The French drain pipe collects water from under the floor and the weep holes and brings it to a

sump pump

we install beneath your basement floor. The sump pump dispels the water from your basement out a discharge line, carrying it to the street or at least 15 feet away in your yard to an exterior bubbler pot.

We also add a

backup battery pump

with a high water alarm to ensure your waterproofing system operates in case of power outages.

To finish the system, we add a basement dehumidifier. The dehumidifier removes any excess humidity that could become basement moisture while also improving your indoor air quality. 
Both the interior and exterior waterproofing solutions keep your basement dry and help prevent mold growth and mildew. Either solution needs to be customized to your NJ's home's waterproofing needs, which is why Blue Umbrella provides free foundation inspections and basement waterproofing consultations, creating the right solution specific to your property.
Exterior Basement Waterproofing
Additionally, you can find a New Jersey basement waterproofing company that offers exterior waterproofing. Exterior basement waterproofing protects the outside of your basement walls,  preventing water from entering. First, Blue Umbrella applies a sealant over the entire outside surface of your basement walls, followed by a blue umbrella skin membrane to create an impenetrable barrier. Next, we cover the barrier with a layer of drainage board, and soil is backfilled against the foundation. 
We generally recommend exterior basement waterproofing only for new construction to avoid having to excavate all of the soil surrounding your existing home, which can be invasive and expensive.
Regardless, the end product of exterior basement waterproofing is a protected basement free of basement water.
Let Blue Umbrella Keep Water Out of Your New Jersey Basement
With the knowledge of what to do about basement water, its causes, and how to waterproof your home for the future, you are well-equipped to protect your home from the dangers of a wet basement. 
If you have suffered from basement water before and want to protect your home Blue Umbrella is the answer. We are New Jersey's go-to waterproofing contractor, with years of professional experience and hundreds of happy customers who now have dry basements, so call us today! With Blue Umbrella, you can rest assured that your wet basement days are behind you.
No More Basement Water
With Blue Umbrella you won't have to deal with basement water anymore. Get your free inspection & estimate.
Get My FREE Estimate
Schedule a free inspection today!
Subscribe to our newsletter for the latest tips, tools & news!
Blue Umbrella Waterproofing Proudly Serves These Areas
For more information about basement waterproofing services or to find out if Blue Umbrella serves your area, see our complete service area.